China was a destination still on our list of places to see so together with 3 other couples we left for our next big adventure into China.   Our travels would take us to Beijing, Simatai (to see the Great Wall), Xian, Lijiang, Tiger Leaping Gorge, Dali, Guilin, Yangshou and onto Hong Kong.
BEIJING
We arrived in Beijing at after our flight from Kuala Lumpur.   We had a tour organised in Beijing (through Travel Star in Singapore) and our tour guide Charis was there to meet us.  After dropping our luggage off at our hotel it was straight onto the tour bus.  Charis' English was quite good and funny at times, she talked non stop!   There were around 33 of us on the tour and she had a name for each group.   We were known as Family Five even though there were eight of us, must be a Chinese thing!!!
Beijing is a very big city with lots and lots of traffic and smog.   Our tour took us to Tiananmen Square the largest public square in the world then onto the Forbidden City which was the residence of the Emperors of the Ming and Quin Dynasties.
The next day we were off to see one of the wonders of the world the Great Wall of China.   Due to its close proximity to Beijing many tours take you to see the Great Wall at Juyongguan.   This is one of the three most famous passes along the Great Wall of China, together with Jiayuguan and Shanhaiguan. 37 miles (60 km) from downtown Beijing, Juyong Pass was a solid stronghold encircling a valley, which was the northern direct access to Beijing in ancient times.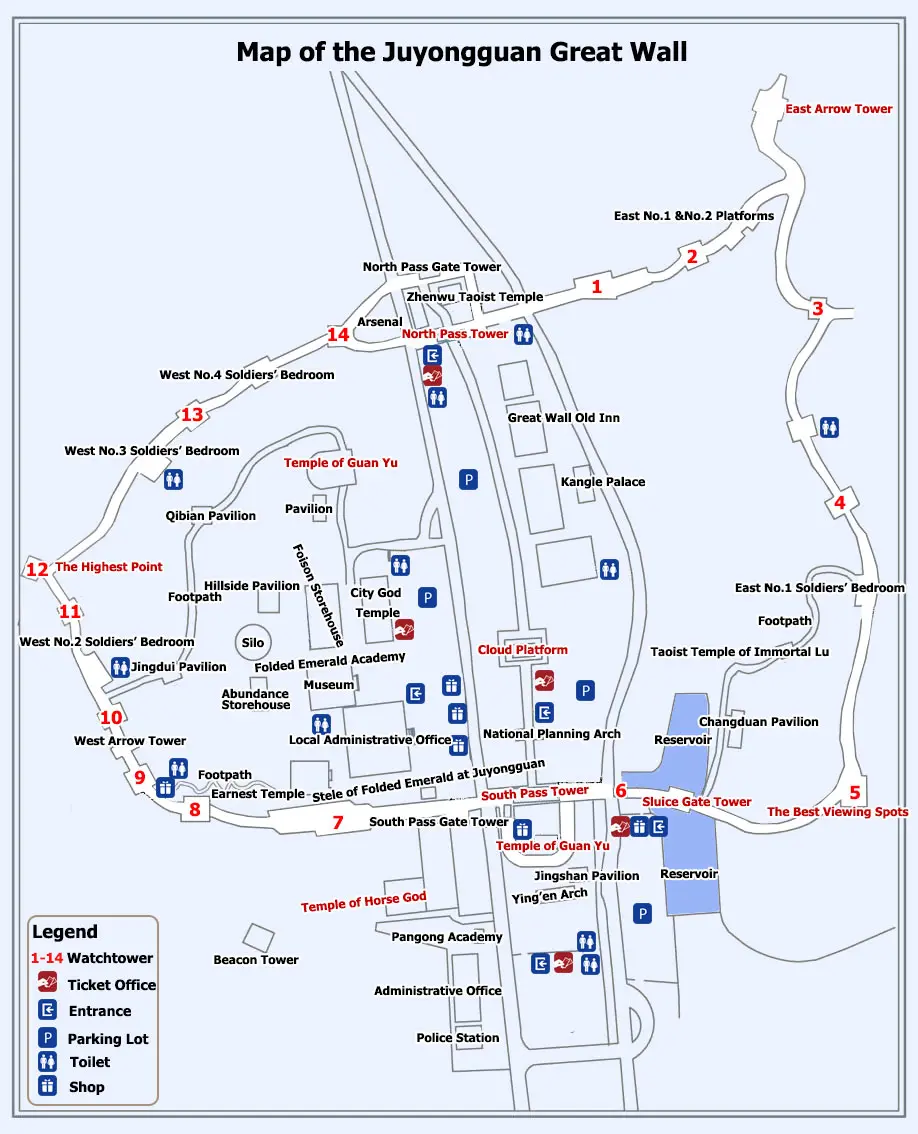 We climbed up to the fifth tower, my God what a steep walk such an amazing sight it certainly didn't disappoint us.
After a well earnt lunch we went to Shichahai which is a famous scenic area in the northwest part of Beijing.  Walked around one of the lakes then on a tricycle tour in
Old Beijing City
to see the historic hutong residences.
Hutong is a Mongolian word meaning water well. At nine meters (about 30 feet) wide, it is the name given to a lane or small street that originated during the Yuan Dynasty (1271–1368). 
Temple of Heaven
Originally constructed during the Ming Dynasty in 1420, the Temple of Heaven (Tiantan, 天坛) was a sacrificial temple used by emperors during Ming and Qing dynasties to appease the heavens, bring prosperity to the empire and ensure good crops for the coming year. Sitting in a large park, the three main altars – the iconic Hall of Prayer for Good Harvests, the Imperial Vault of Heaven and the Circular Mound Altar – draw in the crowds all year round. 
Of course no trip to Beijing can be undertaken without a little retail therapy.  Qianmen Street is a famous pedestrian street, running from Jianlou (the Archery Tower) of Zhengyangmen in the north to the turning of Tiantan Park in the south. It is 840 meters (about 919 yards) in length and 21 meters (about 23 yards) in width.  There are lots of expensive shops here however I recommend you take a detour off the main thoroughfare and head into the side streets where you will find many bargains and markets.  This is where the locals shop.
Our visit to Beijing was complete and so it was time to head off on our own to see some more remote areas of China.
SIMATAI
Although we had already been to see the Great Wall we wanted to go somewhere that was a little less touristy.   I had worked with a colleague who lived in Beijing for a while so asked him where the best place would be to go to see the Wall.   He recommended Simatai Guesthouse/DongPo Restaurant which was about a 2.5 hour drive from Beijing.
After travelling on a dirt road through the valley and up the mountain we arrived at our destination.  Wow what a view from this incredible little guesthouse.  There was the Great Wall with not a sole around except us.
Our hosts were the loveliest people, spoke little English but made up for it with their hospitality.   It certainly isn't 5 star but it was clean and comfortable.   We were there in October so it was quite cold at night but we did have electric blankets.   A cold shower though!!!  Another drawback was the outside toilet but we were after all out in the country.
After settling in and a delicious lunch outside in the sun overlooking the Wall, our host took us for a walk to her village where we met some of the locals.  The children were very shy but once we handed out some toy koalas I had brought with me from Australia they soon had smiles on their faces.
On our return to the guesthouse we walked up to the wall a mere two minutes away to see the sunset, just amazing. This section of the wall had been closed to the public as it was in a state of disrepair.   Fortunately for us our host told us if we went up there before and after the guards of a morning and night we would be okay.   It certainly whetted our appetite for the next day when we would walk on this old and crumbling part of the wall.   After sunset we came back to THE most beautiful dinner and delightful company.  It was so relaxing after the hectic tour of Beijing and very welcome.
The next morning we were up very early (still dark and cold) to go to the Wall to see the sunrise before the guards started work.   This was one of the most intriguing and thought-provoking places I have ever been.  We were the only people there and you could see the Wall for miles.  The steps were very steep and uneven and made quite a  difficult climb.   We also had to cross over a swing bridge to get to the other side of a river.   Down in the valley you could see the steam coming off the spas that are there – how nice it would have been to have a hot spa!!!
Unfortunately it was time to say goodbye to our hosts and head back to the airport to travel on to Xian.   I would certainly highly recommend Simatai Guesthouse/DongPo Restaurant if you want to experience the Great Wall in all its glory without the hoards of tourists you encounter in Beijing.
Since our visit in 2013 I understand you can no longer walk from Simatai to Jinshanling and the entrance to the Wall near the guesthouse is also now closed see the following link for more information www.simataiguesthouse.com/#/
 Xian
We flew from Beijing to Xian which of course is the home of the famous Terracotta Warriors.   We had trouble finding our accommodation but one of our group is very good with maps and after lugging our suitcases around the streets we eventually arrived at MYFO Wan Shun Yuan Inn  MYFO Wan Shun Yuan our home for the next three nights.
This guesthouse is positioned in the Muslim quarter and just a 10 minute walk from the Zhong Lu metro station and only 400 meters from the Ancient Wall of South Gate of Yan'an, Bell Tower.   We practically walked out of our door onto the street where the street food stalls were located as well as markets.   A really good spot .
Our first adventure in this new city was a bicycle ride around the wall that surrounds old Xian City.  The wall is 14km around and should take 100 minutes we were told!  I think we may have taken a little longer than that it was not an easy ride.   Was a great way to see the old city though.  Lots of smog here as well.
Of course the reason everyone travels to Xian is to see the famous Terracotta
Warriors.
The Terracotta Army was created by China's first emperor, Qin Shi Huang, who began the construction of the army in 246 BC after he (then aged 13) ascended the throne.

It was an afterlife army for Emperor Qin. It was believed that objects like statues can be animated in the afterlife.

Thousands of years later, the soldiers are still standing and showcase an extraordinary level of craftsmanship and artistry from 2,200 years ago.
We left our guesthouse and decided to get a tuk-tuk (an auto rickshaw sometimes called Sān lún – three wheeler or Dū dū chē – beep beep car) to the train station where you can catch a local bus to Lintong District.
Lintong District is 30 kms east of Xian, the opening hours are from 8.30a.m. – 5.30p.m. (off peak 8.30a.m. – 5p.m.).  Entry will cost you 150 yuan (March – November) and 120 yuan all other times.
We visited the three pits and I was blown away by the size of the place and how many warriors there were.   It's incredible to think they are still uncovering more. They were built in 200BC.
After a full day of visiting the warriors we spent the night at the markets buying gifts to take home and eating from the food carts on the streets.   Amazingly cheap and so delicious.
It was time to say farewell to two of our group Phil and Belinda who were going to Hong Kong and we headed off to the airport to catch our flight to Lijiang which went via Kunming.  So now family five was down to six!!
LIJIANG
Dayan, commonly called the Old Town of Lijiang is the historical center of Lijiang City, in Yunnan, China. It is a UNESCO World Heritage Site.
We checked into our guesthouse in the old city the Garden Inn.   What a lovely old place this was.   Lijiang is 7000 feet above sea level so a little cooler than the other cities we had been to.   Then time to have a look around the Old Town.  We walked along the old cobblestone streets past a wonderful array of shops selling interesting looking ethnic apparel and much much more.
Lots of people here at night especially in the food area.   We stopped to see some of the interesting spices, food and ethic veggies.  Enjoyed a delicious meal but not quite game to have a go at the cooked insects!!!
The people here are so friendly and welcoming.  We noticed they had a different appearance to those we had seen in Beijing and Xian.  This is because Lijiang has the largest single concentration of Naxi people in Yunnan Province who live in Lijiang Naxi Autonomous County.  We saw many people wearing their traditional dresses both in the shops and in the streets.
It was funny to be a tourist here as most of the locals wanted a photo of us!!  Of course we obliged.  The architecture in Lijiang is spectacular. Walking through the local streets, is a good way to see some of the old wooden buildings.  Every house has its own unique characteristic that stands out.  There are lots of streams running through the old town mainly due to the ancient water-supply system of great complexity and ingenuity that still functions effectively today.
Another must see in Lijiang is the Black Dragon Pool.  This is a famous pond in the scenic Jade Spring Park located at the foot of Elephant Hill, a short walk north of the Old Town.    From here we could see the Jade Dragon Snow Mountain which is where we were headed the next day to walk up Tiger Leaping Gorge.
Unfortunately Lee (my hubby) wasn't able to come with us to Tiger Leaping Gorge as he suffered from altitude sickness in Lijiang.   We hadn't realised how high Lijiang was (7000 feet above sea level) and suddenly he couldn't breathe properly and the guys who worked at the hotel had to give him oxygen.  So if you suffer from altitude sickness just be aware of this.
TIGER LEAPING GORGE
After looking at photos that my daughter had taken of their trip to China and with some encouragement from her we decided that we should follow her itinerary and see the real China.   The first of these was Lijiang followed by a hike up Tiger Leaping Gorge.  We of course are a lot older than our daughter but she said, "you'll be fine it's not that steep".  Famous last words!  Another thing she said is whatever you do don't get lost in the middle of China somewhere.   Well ….. just read on.
So Family Five really was five as Lee was still suffering from altitude sickness and stayed behind in Lijiang.  There are several ways to go to Qiaotou we decided to hire a mini bus from Lijiang which left about 8am.  It cost around 35 yuan (A$6) and was supposed to take around 2.5 hours.
That 2.5 hours turned into 5 hours as there had been an accident and traffic was held up both ways.   Somehow a truck had ended up in a ditch and was across both lanes and it was quite hilarious watching the locals trying to get it back on the right side of the road.
We eventually made it to our destination and off we went.   You have to walk to the entrance (there is a well defined path). Tickets to the TLG cost 60 yuan (A$11). There are two options, the upper trail which takes about 2.5 hours to the first guest house or the lower trail along the river.
A FEW STATISTICS
The hiking upper trail represents a total distance of 26 kilometers, a total ascent of 1145 meters up and a total descent of 1090 meters down. The steepest part of the trail (the '28 bends') consists of 453 meters ascent (on 2.5 km long) from 2208 meters high up to 2661 meters high with an average grade of 18.1%. Fit hikers would do that in one to 1 hour and a half.  Tiger Leaping Gorge
We chose the upper trail which was very steep and you also didn't realise the altitude.  I found myself unable to breathe properly and I was being pestered by a local with a donkey asking if I want to ride instead of walk.   He told me a price which I declined however he was very persistent.   So he followed me up until I gave in (I think he knew I would).  We came to an agreement and he led the donkey and me to our accommodation for the night Naxi Guest House.
This was a really lovely place to spend the night with good food and lovely people.  After a good night's sleep we enjoyed a delicious breakfast and headed off on the next part of the trek.  My guide and his donkey for waiting for me.  Today we were going to be challenged by the 28 bends or at least those who hiked were.  Mind you riding a donkey for around 3 hours up and down hills wasn't all that comfortable either.
I must admit I was a little worried about my mates who were walking as it is extremely high and lots of rocks and boulders to climb over.  My guide was very good and told me in his limited English to wait while he went back to check the others.   So there I was sitting on the side of the cliff all by myself in the middle of nowhere just looking at the incredible view.   A few other hikers came past and said how difficult it was.   However to my surprise my guide came back after a while with Alice's backpack to make the rest of the hike a little easier for her.
I got to the Tea Horse Guest House for lunch and I was very happy to see the others turn up.   They said it was very steep but were pleased with themselves for having done it.  I have to admit I was disappointed that I couldn't do the trek but at least I tried.
After lunch we headed off again this time downhill towards our accommodation for the night at Halfway Guest House.  This is where I parted with my guide and the donkey.
The path is marked with painted arrows however somehow we took the wrong turn and ended up going through some villages which was very interesting although it did take us quite a long way out of our way.   It also started to rain which made it even more interesting.
Finally we arrived at our home for the night Halfway Guesthouse.   We hadn't booked and were lucky they had two rooms left.   I shared with Ross and Alice it was quite cold up there in the mountains but the view made up for it.  Can't say the same for the toilets though.   Probably the worst I have ever encountered oh and a cold shower!!!
We all slept well and up early for breakfast.   Alice and I decided to get a bus to Tina's Guesthouse while Ross, Johnno and Sue finished the trek.  We all met up at Tina's where we hopped on the bus to go back to Lijiang.
On the way we stopped at the statute of the tiger which as legend has it lept across to the other side of the gorge.
What an amazing adventure.   If you ever go to China you really MUST see Tiger Leaping Gorge.
Safely back in Lijiang I was happy to see Lee feeling much better.  Over a few beers we told him of our adventure.   One more night here then off to Dali.
DALI
We said a sad farewell to Lijiang and were reminded how beautiful the Jade Dragon Snow Mountain is as we climbed aboard our bus to Dali.  This is a much nicer bus air conditioned and double decker.  We sat right up the front for a good view.   Takes about 4 hours to Dali.   Some interesting scenery on the way trucks carrying very long wind veins and lots of crops growing throughout the trip.
Arrived in Dali staying at The Jade Emu hostel which is owned by an Aussie.  The first thing I noticed was how different the architecture was to Lijiang.   Most of the buildings here are white with Chinese writing on the walls very lovely.
Quite a few mountains around as well and not as high or as cold.   We settled into our rooms and after a few drinks we headed down to the old town which was just lovely.  Lots of eating places along the way.
The next morning we walked down to see the
Three Pagodas
.   The Three Pagodas were initially built for auspicious reasons. According to local legends, Dali was once a swamp inhabited by breeding dragons before the humans arrived. As the dragons, which were believed to deliberately create natural disasters to dispel human intruders, revered pagodas, the Three Pagodas were built to deter the dragons.
Erhai Lake ("Er Hai" which means Ear Sea) was our next place for a visit.   The lake covers an area of 250 square kilometers and is located about two kilometers east of Dali.  You can get a local bus to the lake, hire bicycles, hike around the lake or like us take a tour.
Our guide was very informative and pointed out the agriculture areas growing vegetables, rice and tobacco.
There is also a lot of fishing here mainly for fish, prawns and white bait.  It was interesting to see how they dry it out on the road.
Went to some local markets where you could buy almost anything.  The people were very welcoming and friendly.   No English at all.
After the markets we wandered around the old city and went to a factory selling all types of embroidery, tie dyed materials and lots more.   It was interesting to see how they are still done by hand.
Our last night in Dali which was an interesting and beautiful part of China it's so nice to see all these amazing places.
The next morning we said goodbye to Johnno who had to return to Singapore where he works as we headed off to Guilin.  So now Family Five really is Family Five!
GUILIN
The drive to the airport in Dali took us around 4.5 hours.  A great road driving through mountainous country.   Quite a few tunnels on the way.  We arrived safely in Guilin which is quite a big place and our hostel is right on the river and very nice.
We walked along the riverbank and met some of the locals on the way.  This was a short stopover on our way to Yangshuo the next morning.
YANGSHOU
We travelled by bus from Guilin to Yangdo Pier where we hopped on bamboo rafts and went down the Li River.   This area is surrounded by the beautiful karst mountains.    Turned around at the Nine Horses Hill (these mountains are on the 20yuan note and also on the cigarette packet).
The Karst Mountains and caves in Guilin are one of the few places on earth that displays the beauty of huge, naturally forged Karst hills and caves. The hills and caves have been an ancient attraction with some inscriptions on its walls dated 729 AD in the Tang Dynasty.
After our boat ride we continued on the bus down to Yangshuo. A very busy little tourist town lots of Chinese come here for holidays as well as backpackers from all parts of the world.   We caught a taxi to our hostel which was a little way out of the town and more in the country.   Once settled in we walked into town had a beer and some dinner.   Quite a nice place.   There are a lot of farms around Yangshuo growing mostly kumquats, persimmons and pomelos.
The next day we enjoyed a delicious breakfast and decided to hire bicycles and ride out to see the Karst Mountains.   Remembering of course what our daughter had said about making sure we didn't get lost in the middle of China we got a map from the hire shop and off Family Five went.
I said I was happy to ride as long as we didn't have to go up too many hills!!!   Oh no there are no hills…..
We had to ride through town dodging traffic on the way but once we were in the country it was lovely.   We rode through rice paddies and villages to Dragon Bridge which by that time we needed some cold drinks and some food.
We checked the map and decided to take a short cut back to the hostel.  That was our big mistake.   The map wasn't to scale and didn't show just how far it was.   We seemed to be going way off the beaten track and we were the only tourists in this part of town.   We rode (or pushed our bikes) up hills and mountains and soon realised we were lost in the middle of China!!!
We asked several people along the way how to get back to our hostel but absolutely nobody spoke English.   We came to a turnoff which said Yangshou 17km!! I think we had already gone about 27km by then so another 17km was not looking good.   It was getting late and we were completely "stuffed" however we had no choice but to continue.   I have to say I was very worried by now.  We envisaged ourselves sleeping under some persimmon trees until morning if it got to that.   Finally we came across a farm and tried for quite some time to get them to understand we needed a lift back to town.   We eventually got through to them and paid them 400 yuan (A$78) to take us three girls and our bikes back to the hostel.   It took us around 40 minutes so we would never have made it before night fall if we rode our bikes.
We then were worried about the two boys after all we had no idea where they were and if they never turned up what would we tell the police???   My daughter's words rung in my ears.
Eventually Lee and Ross arrived and we were all so relieved.   Just lucky we came across the farmers (who would have been very happy with what we paid them) and we were all safe and maybe not so sound.   Felt much better after a few well deserved drinks.  We all sleep well that night.
After our adventurous bike ride the day before we were all ready to check out and leave China.   We had to wait until 11p.m. to hop on the sleeping bus to Shenzhen.   This would be another interesting experience.
The bus didn't have any seats just beds.   Three rows of bunks the whole length of the bus.  Had a pillow and a blanket quite comfortable but no toilet on board. The bus stopped quite a few times throughout the night for God knows what and people seemed to be out and about at all hours of the night.   After 10 hours we arrived in Shenzhen at 9a.m.   We were all "busting" to go to the toilet and I must say they were not very clean but we didn't care. Another amazing experience but I don't think I would do it again.
We then got a taxi to the China/Hong Kong border hopped on the MRT and then the airbus to the airport.
Well that was our visit to China.   Certainly different to just seeing the big cities.  The best part of any trip is meeting the local people and other travellers, tasting the food, drinking the local beer and of course the amazing scenery.   I was very pleased to be back in civilisation where we had nice beds, clean toilets and other everyday amenities that we all take for granted.
Will never forget this trip.